AVATAR "IKRAN" DRAGON WING TUNICS - Capturing the romance & right relationship to All Beings -
Take flight with our Avatar inspired Dragon Wing Tunics in tribal patterns & flattering fit -
Many sizes & colors to choose from...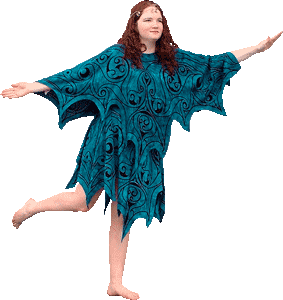 Winged Tunic Top
Teal / Black
#WT224 - Teal Tunic in S/M
#WTX224 - Teal Tunic in L/XL (fits M-XL)


Regular $36.00
50% off Sale $18

Wearable wings - pullover poncho is great on its own
or over a knit top, rayon.
Hand wash




---
---
Fantasy Costumes Index | Wing Skirts & Tunics | Clothing Index | Site Map
All Rights Reserved © 1996 Ann W. Weller
No portion of this publication may be reproduced or transmittedin any form or by any means, electronic or mechanical,
including by photocopying, recording, scanning, or use of any information storage and retrieval system
without express written permission from Ann B. Waters, Proprietor, Ancient Circles.