Ancient Circles
c/o DEVERA DISTRIBUTORS
inbox@deverapublishing.com
503-775-2880
FAX: 971-244-9333
10am to 6pm PST.

Our NEW website will be up
and running soon!
Please continue to use this original website until further notice




---
Our versatile flowing jacket is the perfect travel jacket!
Looks great on all body types, from size 6 to size 22.
Wear with jeans, a simple dress,
a bathing suit, even evening clothes.
All of the Jackets are 100% Rayon ~ Hand Dyed ~ Color Fast ~
Hand Wash ~ Made in Bali or India
Click HERE for ALL color samples. (opens new window)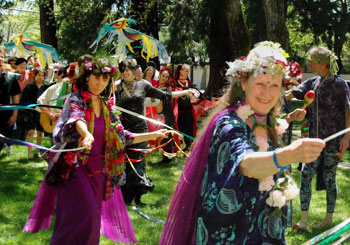 Our flowing jackets make a great ritual garment
- as seen at Mayfest 2007, in Willits
(model - Carlin Diamond)
---
Celtic Batik Jackets
J12 Caribbean Teal


J34 Midnight
Purple


J42 Peacock


JC02 Black/White

Celtic Jacket - J11- Shakti Fire Red


Celtic Center Knot Jacket - J02-Blk/Wh


J53
Dusk Blue


J79
Purple Haze


J70
Hot Multi


J37
Black Multi

J12
Caribbean Teal

J34
Midnight Purple


J37
Multi Print Black

J42
Peacock
JC34
Midnight Purple
Center Knot

J53
Dusk Blue
J70
Hot Multi-Color
J79
Purple Haze
Price - $38
Our favorite overall Celtic Patterns
---
Celestial Celebration Jacket

---
Wide Pullover Tunics
100% rayon, fringed

TUN11M *
Shakti Fire Red

(click for enlarged view)


#TUN53
Dusk Blue/Aqua
(not as pictured-full Celtic print only)



TUN12
Caribbean Teal

TUN34
Midnight Purple

TUN37
Black Multi-Color

TUN42
(not as pictured
border only)
Celtic Peacock

TUN53 (full print)
TUN53M * (border only)
Celtic Dusk Blue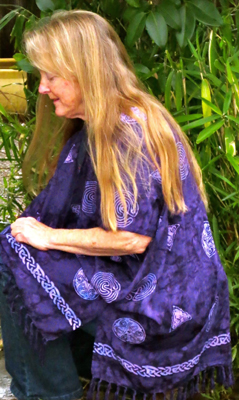 TUN79
Celtic Purple Haze
(border only)

Wide Tunics - Fits M to 3XL
45" wide (90" girth) x 36" long
Price: $34
COLORS:
Tunics are a solid batik color with
contrasting celtic pattern along the hemline.
*

Note: Tunics TUN 11M and TUN 53M are
available in a smaller width than the usual size
of 90" girth.
They are sewn to fit a size L-2XL with an overall girth of 67"
#TUN11M* Celtic Fire Red
#TUN12 Celtic Caribbean Teal
#TUN34 Celestial Midnight Purple
#TUN 37 Celtic Black Multi-Color
#TUN42 Celtic Peacock
#TUN53 Celtic Dusk Blue/ Aqua (full print)
#TUN53M* Celtic Dusk Blue/ Aqua (border print)
#TUN79 Celtic Purple Haze
#TUNA Assortment of 3 for $86.00 (15% off sale)
---
Cascading Sleeveless Coat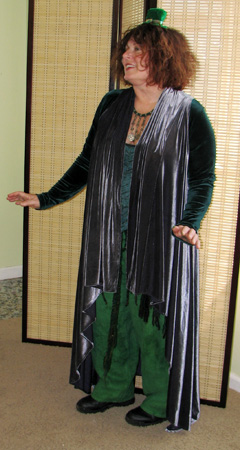 A graceful alternative to a duster or jacket
Elegant velvet in a flattering fit
open front cascading coat/vest
in great classic colors…see it here
---
To order by MAIL with your Check or Money Order, click HERE
GODDESS GOWNS for Special celebrations - Fit almost everyone
Scarves Index | Sarongs Index
Clothing Index | Women's Clothing Index | Men's Clothing Index
Site Map/ Navigation Page | Home
Shipping Charges Chart



All Rights Reserved © 1996 Ann W. Weller
No portion of this publication may be reproduced or transmittedin any form or by any means, electronic or mechanical,
including by photocopying, recording, scanning, or use of any information storage and retrieval system
without express written permission from Ann B. Waters, Proprietor, Ancient Circles.